"Ho' – means to Make, Do, and Create

Pono – means Balance, Goodness, Correctness,

Perfect Order"

A Quote from Zero Limits Dr. Joe Vitale​
"Hawaii – the word Ha means "inspiration. Wai is "water' and I is 'the Divine". Hawaii is the breath and the water of the Divine.


The word itself is a cleansing process, so when I am anywhere and I check- I say, for example, before I go into the room,


"What is it that I need to clear that I don't know? I have no idea what's going on, so what is it?"

So, if I apply a cleaning process that is called "Hawaii," it will get data that I am not even aware of and take me back to zero".

Dr. Ihaleakala Hew Len, PhD.
Dr. Ihaleakala Hew Len, PhD. on Cleaning Tools and his Zero-Wise Embracers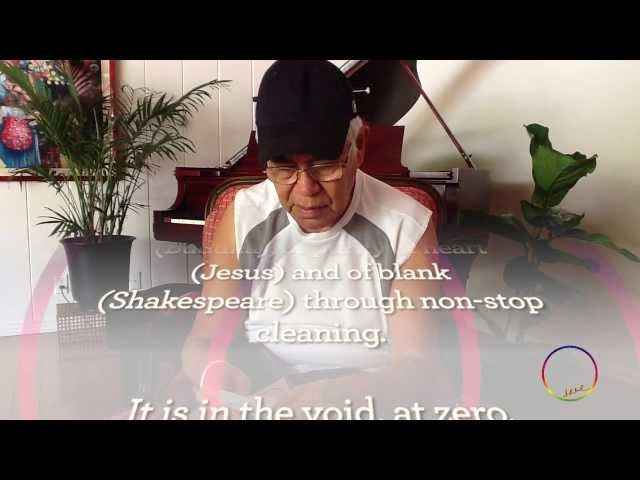 The only purpose in your life ​and mine is the restoration of our Identity - our Mind- back to its original state of void or zero
(Buddha), of purity of heart (Jesus) and of blank (Shakespeare) through nonstop cleaning.
It is in the void, at zero, Divine Love resides, providing inspiration for perfect relationships, perfect health and perfect wealth.

The responsibility and the function of the Conscious Mind (Intellect) is to initiate the cleaning, to care for

the Subconscious, teach it the cleaning process and to ask Divinity for directions.

The Conscious Mind is clueless as to what memories are replaying (11,000,000 per second) in the Subconscious.

ONLY DIVINE LOVE CAN TRANSMUTE TOXIC MEMORIES TO PURE ENERGIES.

OF INSPIRATION AND ENLIGHTENMENT !

The Conscious Mind does not perform these functions ! The Subconscious, as the super computer, is the key in the
SELF -I- DENTITY- through Ho'oponopono

cleaning process. If loved and cared for, the Subconscious becomes an ally, cleaning nonstop even as we sleep.
Peace of I
Dr. Ihaleakala Hew Len
"Embracers in​spire seeing differently, clearing toxic memories

and releasing rebel powers in your soul.
Wearing an "Embracer " allows the cleaning to take place continuously,
embracing memories of pain and suffering with love,

gratitude and forgiveness, releasing them back to nothing.
This constant cleaning allows the mind to return to zero,

restoring the soul to pure light and love.
Only at zero is love renewed and divine inspiration becomes possible."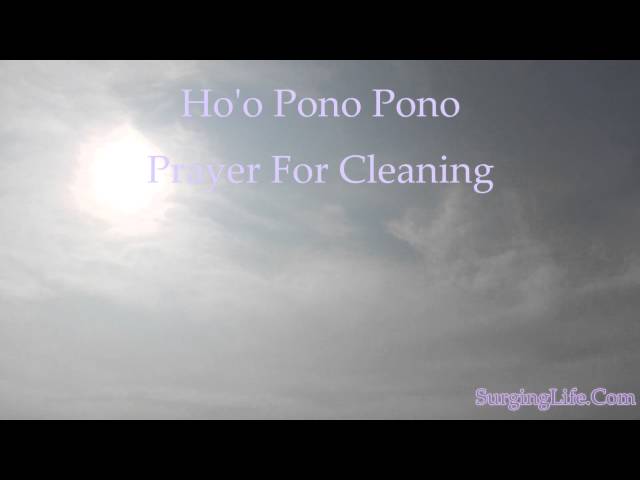 Ho'oponopono Prayer For Cleaning A Gift From Morrnah Simeona
Published on Jul 4, 2014
Ho'oponopono Prayer For Cleaning A Gift From Morrnah Simeona
See https://surginglife.com/wellness/ho-o... for more.
The Ho'oponopono prayer for cleaning is a gift that was given freely to the world by the wonderful Morrnah Simeona. It is a beautiful piece which you can use to bring you greater peace within all elements of your life. When Morrnah gave this prayer, she gave it so that we could all achieve a greater ability to clear our lives of the issues that are faced at various times. The Ho'oponopono prayer is incredibly easy to use, and just reading through it helps you to feel yourself become lighter and freer as your various troubles evaporate and disappear.
Morrnah Simeona Peace of I Prayer - Ho'oponopono
Morrnah recommended that whatever issue you are working on clearing that the prayer be recited 4 times. You can either read it quietly or aloud, though the belief follows that in saying it aloud a greater power is given to the cleaning you are doing. As such a greater result will be experienced. To make it even stronger she suggests learning it and committing it to memory, in doing so you have it deeper in your unconscious mind and it can connect deeper with the issues to be cleansed.
As noted above reciting it from memory out loud is believed to bring the strongest results. Read it through working through various issues as you do so. Every time you read through it you will absorb it on a deeper level, helping you to remember it more effectively so that you can recite it from memory with ease. The part where you see the words "The Issue" is where you state the issue as you believe it to be.
All Cleaning Tools Objects

& Foods




By ~ Dr. Joe Vitale &

Guitar Monk Mathew Dixon

Blue Solar Water ~
Drinking solar water is a pure form of saying "I love you". An excellent practice is to keep some of this water in a spray bottle. When traveling on a trip, it can be sprayed on the tires of your car. You can also add a drop to your coffee, tea or water bottle, and it is wonderful for plants
(and any other way you are inspired

to use it.) The first misconception is that the more water used, the better.
This could not be more untrue: a drop of solar water has an equal effect to
a gallon of solar water.
Apple Cider/Blue Solar Water Mix
You can combine a high concentration of apple cider and a small amount

of your blue solar water.
Place a small drop under your tongue or add it to other foods, or liquids.
These two combinations create a full spectrum shield that protects people
(and all other life forms on our planet,
including vegetation in the soil of the earth itself). It's similar to putting on a spiritual helmet that protects your mind from all thoughts, which means that we are less likely to experience those memories.
Sleeping or resting your head on a down filled pillow is a cleaning tool that helps to expand our consciousness, and
opens our awareness to the constant expansion of our universe.
The down comforts our inner spirit and cleans on the memory that represents the more horrific side of human nature.
It focuses strongly on guilt, depression, resentment and oppression.
Using a down filled pillow also helps comfort our transition when we
leave this earthly plane.
Ho'oponopono - Dr. Hew Len - blue corn water
Dr. Hew Len on foods as powerful cleaning tools!
"Brittle bone you aren't drinking enough water,

just drink Blue Solar Water "
Enjoy!

/